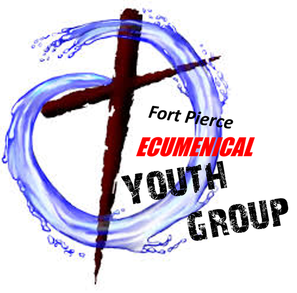 Welcome!
"Don't let anyone look down on you because you are young, but set an example for the believers in speech, in life, in love, in faith and in purity."
1 Timothy 4:12

Fort Pierce Ecumenical Youth Group combines students from Community United Methodist Church of Fort Pierce, Surfside Community Church, along with any and all teens from the community. Together our hope is to bring real faith and real life together for 6-12th grade teens. We do this through weekly worship, group gatherings and yearly events. Led by Pastor Mark Young,our mission is to encourage youth of Fort Pierce to decide for themselves to accept Jesus Christ as their Lord and Savior and begin or continue a daily walk with Him. In this way, it will empower students to become a disciple of Jesus.

March 1 Youth Group, 6:30-8:00 pm
March 8 Youth Group, 6:30-8:00 pm
March 15 Church Yard Sale Help; Youth Pool Party at Surface's, 6:30-9:00 pm
March 16 Church Yard Sale Help March 17 Church Yard Sale Help
March 22 Youth Group, 6:30-8:00 pm
March 29 No Youth, Holy Thursday

We meet Thursday's 6:30-8:00 pm at Community United Methodist Church.
If your in 6th - 12th grade, we would love for you to join us.